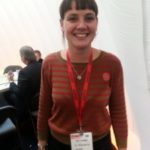 We were delighted to have the opportunity to play and promote the game of Co-opoly at the Co-ops United event in Manchester on Thursday 1st November. We managed to set up four games running concurrently and came away totally vindicated in our belief that Co-opoly is an excellent tool for learning about co-operatives and especially what it's like to work in one.
There was much interest in our 'Pod' – with people coming in to watch, asking us about the game, and asking where they could get hold of one.We asked players for feedback about the game – here are some of their comments:
the game cleverly illustrates a real-life problematic in co-ops, which is trying to find out what's going on in colleague's heads …
realistic but fun game, similar to working in a workers coop
one of the players immediately adopted the role of "Treasurer" to keep tabs on how many points the co-op owned in real time. This was used by the group along with some forward planning in case the points were needed to cover losses to weigh up spending decisions (e.g. "wage" rises for members).  This demonstrated an awareness that the co-op needs enough working capital to survive to trigger member benefit in the longer term and it also needs up to the minute financial information – something not all new-start co-ops understand!
die needs round corners, doesn't roll well
black text on red cards is hard to read
good for children to learn an alternative to competition (especially siblings)
lastly a small child made the clever observation that for countries that don't use Roman numerals – 1,2 3 etc. – the die would not work, so we agreed that the traditional dots would work better!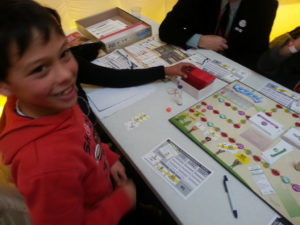 We were privileged to have the participation of Donna Balkan, from the Canadian Co-operative Association, who has played Co-opoly "at least 12 times" and who is a great fan of the game. See her blog about Co-ops United & thanks for the photos Donna!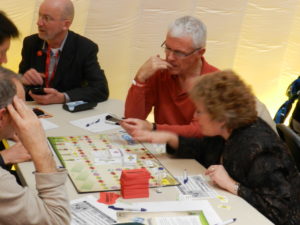 There was a lot of interest in the new version of Co-opoly, which Toolbox for Education are currently fundraising for, which will be cheaper overseas, because easier to pack and post. Check their website & contribute if you can.