2012 was a good year for Co-operantics!  We became a co-op, with Nathan Brown joining as the first of (we hope) many new members. 2012 highlights included CUK's Co-operative Skills Masterclass in London, Richard Sennett was a thoughtful key speaker, and we ran the jigsaw game, always a rich source for reflections on communications in co-operatives. We were proud to be commissioned to work with Jim Brown and Mick Taylor on a CEH-funded national training and CPD programme for co-operative development practitioners – delivering and assessing the Understanding Co-operative Enterprise (UCE) Unit.
We were very excited to attend Co-ops United in Manchester in October, it was a great honour to meet co-operators from all over the world – and we were especially thrilled to meet co-op developers from the United States and Canada and hear their views on the training of co-operative business advisers.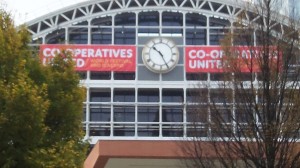 Presenting the Co-opoly game was the cherry on the cake!  Our 'pod' attracted huge interest, with lots of people popping in to see what was going on and hear about this great new game. The players clearly enjoyed it and the Guardian interview helped to promote the game here in the UK – we were proud and happy to hear that sales from this side of the Atlantic increased as a result.
However, perhaps the most heartening development for us in 2012 was the growing and continuing interest in 'co-operative skills'. We attended 'Co-operative Working Skills – the heart and muscles of co-operative management' at the CEH Conference, where Bob Cannell talked about:
collectively agreed authority
members participating in decision-making and implementation
where the power of many is used:

to get more done
to support each other
to develop new ideas
to interact better with customers and suppliers

and where management resources are used to develop the business, not to fire-fight conflict
and much more. In the short space of time available, we could only touch on some of these important issues. However you can get more insights drawn from Bob's 25+ years' experience as a worker owner at SUMA at his blog
Bob, along with Britta Werner from Unicorn Wholefood Grocery and others will be delivering 'Governance and participation in co-operatives' – a workshop for co-operative development advisers on 22nd January. The workshop aims to explore how we, as co-operative development practitioners, assess support needs in this area, how we work with client groups to promote good governance and participation, and whether the recently revised Worker Co-operative Code of Governance provides a starting point for co-operatives to diagnose, develop and improve their practices. Cooperantics will be there, keen to learn from others and share our experience.
Finally, we were very pleased to read in the Blueprint for a Co-operative Decade:
"Participation: The aim is to elevate participation within membership and governance to a new level, and to do this by focussing on the practical aspects of participation…"
And we hope to be able to contribute to the ongoing debates – not least by building our collection of hints, tips, tools & techniques for improving co-operative working.
 We'd be interested to hear your thoughts:
How do you ensure good co-operative skills in your co-operative?
What are the dangers of not paying attention to these essential skills?
How do you welcome new co-op members and help them to contribute?
You can leave comments here for the next fortnight – alternatively, email us at
kate[at]cooperantics.co.uk